Crispin Corrado, Ph.D.

Instructor of Art History

Crispin Corrado is a classical archaeologist specializing in Roman art, who received her Ph.D. at Brown University, and an M.A. in Art History and B.A. in Classics from the University of Chicago. She has fieldwork experience at Pompeii, and has worked in a curatorial capacity in the departments of ancient art at the Smart Museum of Art at the University of Chicago, the Museum of Fine Arts, Boston, the Museum of Art at the Rhode Island School of Design, and the Vatican Museums. While working at these institutions, she assisted in the creation and implementation of exhibitions of ancient art, co-authored catalogs, wrote articles and presented guest lectures. Her major research interests include Roman wall painting, sculpture, and domestic architecture, and her publications include an article on Roman wall painting published in the Rivista di Studi Pompeiani, and a 2013 monograph on the commemorative funerary practices of the Romans during the imperial period, entitled Merry and Jovial: Reconsidering the Effigies Immortalis and the Commemoration of Roman Boys. Her current book projects include a student-oriented guide to the ancient city of Rome, and a monograph on Roman imperial villas. She currently teaches courses related to ancient Rome at several study abroad institutions in Rome, and serves as the Academic Director for the Association for Research into Crimes Against Art, the international organization dedicated to issues related to the loss and destruction of art and cultural artifacts. She is also the founder and an acting officer of the Rome Society of the Archaeological Institute of America.

Marina Kavalirek

CUArchitecture Program

A native of Austria Marina Kavalirek graduated in Architecture from Die Technische Universität, Vienna in 1998 and is a member of the Architecture Chamber of Baden Wurttemberg, Stuttgart, Germany. She moved to Rome in 1997 where she began her architectural career. She worked for Massimillano Fuksas on the Vienna Twin Towers and with King & Roselli on the ES-Hotel in Rome. Kavalirek is one of the three founding members of "Arcult" a partnership of architects in Rome guiding visiting architects and scholars for modern and contemporary sites in Rome. She has written guide books and given lectures to professionals and students studying in Rome. From 2007-2010 she taught for Penn State University as an adjunct Professor in the Sede di Roma program in Landscape Architecture. Since 2009 she has coordinated the Spring and Summer architecture programs in Rome for Catholic University. Kavalirek has travelled extensively in Europe and has led research and study tours throughout Italy.

Milena Locatelli, Ph.D.

Instructor of English Literature

Dr. Locatelli graduated in acting from the Centro Sperimentale di Cinematografia (Rome), and in Foreign Languages and Literature at the University of Rome "La Sapienza". She holds a Ph.D. in Modern Languages and Literature (English and Spanish) from the University of Pisa in 2005, with a dissertation on the theatre of Federico García Lorca (The Theatre of Federico García Lorca in Spain and Italy: An Analysis of the International Reception). From 2005 to 2008 Dr. Locatelli was Professor of Spanish literature at the University of Pescara, where she taught courses on the Semiotics of Theatre, The Analysis of the Literary Text, Theatre and Poetry in the 20th century, and Cinema and Literature. Since 2005, she has taught Italian language and culture at the American Academy in Rome, as well as at the Rome campus of Iowa State University of Science and Technology and the Embassy of Ireland to the Holy See. Since 2009, she has been teaching British and American Literature at the Catholic University of America in Rome, as well as a course on "The City of Rome" at St. John's University. Alongside her teaching duties, she participates regularly in conferences, and continues to publish articles, essays and papers in several European magazines and reviews.

Jan Bentz, Ph.D.

Instructor of Philosophy

Professor Bentz was born and raised in Germany and graduated high school in St. Louis, Missouri after studying as a foreign exchange student. Professor Bentz holds a doctorate in Philosophy (Dr. Phil) from the Roman Athenaeum Regina Apostolorum, a Master's in Sacred Art, architecture, and Liturgy and a Master's in Church and Religious studies. His fields of expertise include Philosophy, History of Philosophy, and History of Art. Prof. Bentz teaches Philosophy of Art (Aesthetics) for The Catholic University of America, History of Medieval Philosophy at Christendom College and Apologetics for IES study abroad. Prof. Bentz was previously active in journalism and worked as a producer for EWTN TV in English and German. His occasional present news contributions include articles in Inside the Vatican and the Jüdische Rundschau. Prof. Bentz also works as a docent tour guide in Rome and the Vatican.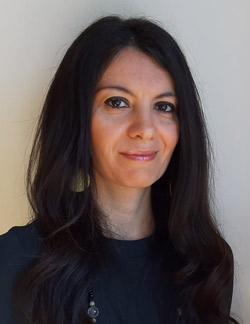 Guendalina Serafinelli, Ph.D.

Instructor of Liturgical Art & Architecture - TRS345
Dr. Guendalina Serafinelli teaches at the Catholic University of America Rome Center, as well as at the Università degli Studi di Roma "Tor Vergata". She is currently Advisor to the American Academy in Rome. In 2020 she has obtained the National Scientific Qualification (Abilitazione Scientifica Nazionale) for the role of Associate Professor in Italian Universities.
She has obtained her PhD in Early Modern Art History and her Specializzazione in Medieval and Early Modern Art History, both at Sapienza University of Rome. She has been Postdoctoral Research Associate at the Center for Advanced Study in the Visual Arts (CASVA, National Gallery of Art, Washington D.C.), and Postdoctoral Fellow at the Bibliotheca Hertziana, Max-Planck Institut für Kunstgeschichte, Rome, where subsequently she has worked as archivist and scientific collaborator at the Photo archive and collection. She has taken part in, and organized, several national and international conferences and has held several visiting professorships, among which at the Catholic University of Asunción in Paraguay. She has taught for the seminarians of the University of Saint Thomas and since 2016 she has been teaching the International Program of the Boston College in Rome.
She has published on major scientific journals (among which, the Römisches Jahrbuch der Bibliotheca Hertziana, The Journal of the History of Collections, Paragone, Storia dell'Arte, Rivista d'Arte, Bollettino d'Arte). She is the author of a two-volume monograph and catalogue raisonée of the Roman Baroque painter Giacinto Brandi (1621-1691) and has recently co-authored a monographic volume on the painter Luigi Garzi (1638-1721). Currently, she is writing a book on the topic of religious conversion in early-modern Rome and is co-organizing and exhibition on Sacred Art.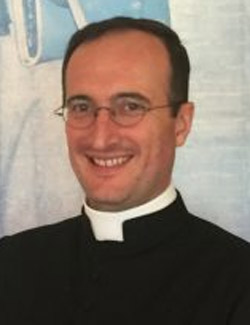 Fr. Francesco Giordano

Instructor of Theology of the Church in Rome - TRS362
Instructor of The Church: Community and Institution - HSTR203
A diocesan priest, a Theology Professor at the Angelicum and CUA, and Director of Human Life International in Rome, Italy, Fr. Francesco Giordano was ordained a priest on January 10, 2009. Born in France, his mother is French, his father Italian and American, he lived in South Africa, where he first learned English. He then grew up largely in the United States with his parents and two younger brothers, spending eighteen years there before moving back to Rome in September 2005.
He holds a BA in History from Vanderbilt University in Nashville, Tennessee, an MA in Literature from the University in Chicago, and his Doctorate in Dogmatic Theology from the Pontifical University of the Holy Cross in Rome.