Staff
Alessia Noro

Rome Center Director


Alessia Noro joined the Rome Center team in September 2015. Alessia maintains a degree in Philosophy from the Università degli Studi di Padova in Padua, Italy, and a master's degree in Philosophy of Art from Università La Sapienza in Rome. She also studied for one year at La Sorbonne University in Paris with an international scholarship. Alessia is fluent in Italian, English and French. Her previous employment includes work with IES Abroad in Rome as a Resident Assistant and Italian Student Companion as well as a career in marketing and public relations at various agencies in Rome.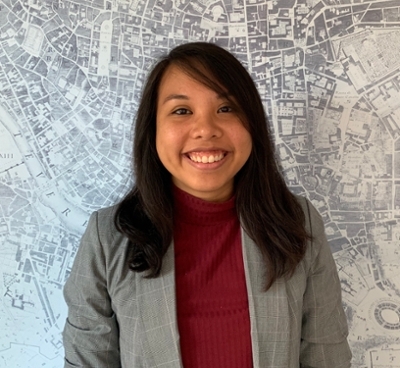 Jeannette Dimaano
Assistant to the Director
Jeannette Dimaano joined the Rome Center team in January 2018. Jeannette was previously employed at Arcadia University's Center for Italian Studies as a Student Life Assistant. Jeannette possesses a degree in Political Science from Università degli Studi Roma Tre and an Online Master's degree in Corporate Finance at the 24 Ore Business School. Jeannette is fluent in Italian, English, and Tagalog. She volunteered for the Italian Red Cross for 3 years assisting the poor and the homeless. In her spare time, Jeannette enjoys taking pictures, discovering good restaurants, and exploring the hidden depths of her city. 
Onaamid V. Dimaano

Resident Assistant

Onaamid V. Dimaano joined the Rome Center team in September 2021 as a volunteer. In 2022, he became an intern. He previously graduated in the Philippines and studied nursing for a year. He is fluent in Italian, Tagalog, and English. During his free time, he likes to go on his mountain bike and explore nature.

Ugo Spadavecchia

Groundskeeper

Ugo Spadavecchia joined the Rome Center in September 2015. Ugo has significant experience as a mechanic, electrician, and gardener. In fact, his entrepreneurial spirit led him to open a petrol station before he began working at the Rome Center. Ugo's favorite part of working at the Rome Center is the opportunity to work in a dynamic, bilingual environment. In his free time, Ugo enjoys playing bass guitar and oil painting.

Stefano Casani


Gardener

Stefano Casani joined the Centre of Rome in 2016. He started working in gardening since he was very young and this has allowed him to collect a significant experience that he conveys every day with care and dedication in the garden of our center.